Newton
Locations we Serve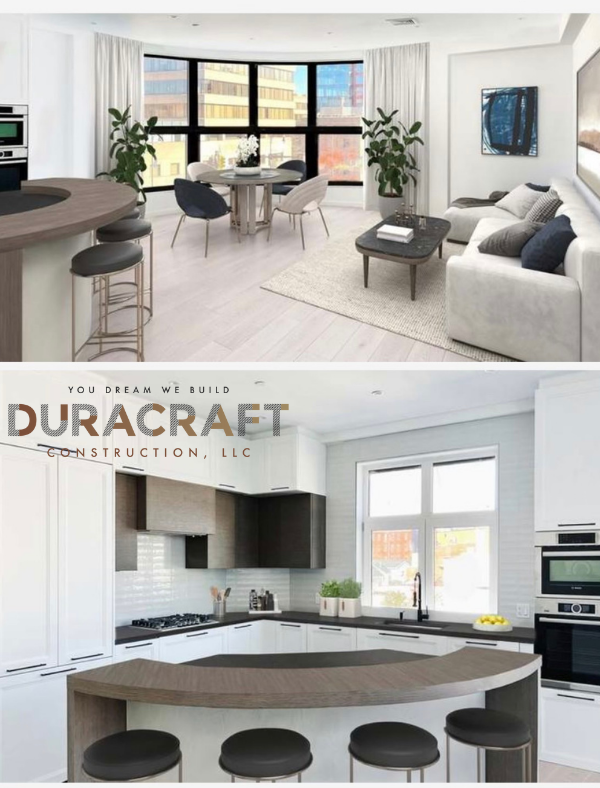 Location in Newton, MA
Duracraft Construction was established in 2002 in Ashland, MA, and since then, we have been dedicated to producing high-quality work, completing custom finish-outs, and developing long-lasting connections with our clients. Now we are expanding our home additions and other construction services such as basement finishing, kitchen and bathroom remodeling, and other major house renovations to Newton, MA.
Duracraft Construction in Newton, MA will make sure to handle every aspect with ease and provide the greatest construction result for your money. By using skilled craftsmen who are committed to quality and have the knowledge to complete tasks right the first time, we reduce surprises and maximize your project budget.
Why choose Duracraft Construction in Newton, MA?
We are a full-service construction firm and are renowned for our superior workmanship, knowledgeable project management, and unmatched customer service. You can unwind and enjoy the construction process with Duracraft. Our team has more than 70 years of combined expertise, making us one of the most reputable construction organizations.
Get a Free Quote Today!
Our Services
Duracraft Construction in Newton, MA is the best option whether you need to remodel your room, update the appearance of your kitchen or bathroom, or need a significant makeover in your house or investment property. We have the experience, excellence, and dedication to your needs.
Home additions are our specialty. With Duracraft Construction, we ensure your complete happiness during the home addition process as we provide high-quality workmanship and excellent communication throughout the process. We take great pride in the fact that our company is locally owned and run. This enables us to guarantee our timeframes and offer the highest caliber of client service. Contact Duracraft Construction in Newton, MA right now if you're looking for home additions, roofing work, or insurance estimates. We would be delighted to assist in making your dreams come true.

Home additions are not a simple task. Before beginning the process of adding to your house, it's crucial to understand the many changes that may result. Before beginning a house addition, you should educate yourself in a few different areas, such as:

What home addition is

The many kinds of home additions

The process

Fortunately, Duracraft is available to assist you with all of your queries.

Learn More About Home Additions
It can be difficult to redesign a kitchen, especially while it is being planned. You must consider the materials from the floor to the ceiling in addition to the main color scheme. Are you looking for an angular, clear, and sleek modern minimalist style, or perhaps more of a country kitchen atmosphere, with exquisite wood cabinets and floors that have little cubby holes for each item? Are you searching for elegant stone countertops to add a polished, smooth feel to the area or an elaborate tile backsplash to add color and vibrancy?

Whatever your plans are, Duracraft Construction in Newton, MA is available to assist homeowners in organizing and flawlessly carrying out kitchen remodeling ideas. As a total house remodeling firm, we are well-versed in every aspect of redesigning any space, but one of our areas of expertise is kitchen remodeling. This provides us with even more opportunities to use our imaginations. The ideal layout and additional features to incorporate into kitchen renovation projects must combine aesthetic appeal and usefulness, so this is a wonderful task to take on.

It's crucial to have a detailed communication plan and a defined timeframe for any significant home renovation project. In all of our kitchen renovations, Ashland, Massachusetts-based Duracraft Construction LLC takes great pride in prioritizing regular customer contact. Every homeowner will receive the long-term value from our work, so they may enjoy a brand-new, lovely room for years to come. Our professional crew not only provides total transparency on the project's progress but also applies creative, all-encompassing solutions to any design or construction challenges we may run across. Our intention is to keep you updated throughout the kitchen remodeling process.
There are two reasons to renovate your bathroom: either it doesn't look like you would like it to or it wasn't originally constructed to last. Many people believe that as long as their restroom is usable, everything is good. But consider this: throughout the course of a lifetime, the average person spends more than a whole year and a half in the restroom. Given this, it is understandable why so many people want their restrooms to be aesthetically pleasing because they use them as a getaway from the daily grind.

It's also crucial that your bathroom is constructed to tolerate the humidity because it includes a lot of moisture. If not, the dampness could seep into the foundational material, weakening it and drastically lowering its longevity. Even worse, there is the potential for mold and mildew, which can lead to a variety of health problems if there is significant moisture that penetrates beneath the floor and behind the walls.

Our staff are qualified and insured renovation specialists with over 20 years of experience, and they are fully aware of the materials and construction methods that will ensure the long-term durability of your new bathroom.
If you own a home, you might be wondering how to make the most of your basement, whether or not it already contains some furniture or is an entirely empty, unused space. Our Duracraft Construction experts can assist you in deciding which features you want to incorporate into this part of your Newton, Massachusetts home in order to make it both a beautiful and functional room.

The team at Duracraft Construction in Newton, MA turns unfinished basements into cozy homes for your family. We get down with you as a basement renovation firm to develop the best plan that satisfies not only your needs but also your budget. The idea is a very practical and efficient approach for homeowners to organize and complete their chores. We collaborate with you to develop a basement finishing budget that you find reasonable and that will give you the most delight. We would be delighted to have the chance to share some of our incredibly original basement design ideas with you.

With Duracraft Construction, you can be sure that the entire basement finishing process will go smoothly and on time.
Duracraft Construction has been the go-to company for major renovations since it was founded more than 18 years ago. Our team of skilled professionals is committed to completing every job on time and under budget while producing work of the highest caliber. Because we recognize how intimidating a big renovation may be, we take great care to keep you informed about your project at every stage of the process.

We offer these major renovation types in Newton, MA:

Kitchen Remodeling

Bathroom Remodeling

Windows & Doors

Additions & New Construction

Flooring

Contact Duracraft Construction in Newton, MA today for a free consultation!
A beautiful way to increase the value of your home is through custom carpentry, such as crown molding and trim. When the time comes to move on, it will help sell your home quickly by adding that extra touch of style and class. If a potential buyer is a first-time homeowner or lives in an apartment complex without access to excellent features like this, crown molding can be an impressive feature.

By exhibiting your individual style through custom carpentry, you may give your house more charm. Duracraft Construction in Newton, MA can assist you in turning your concept into reality, whether you like elaborate detailing or something more understated! Our team has extensive expertise in many kinds of carpentry, so we know how to complete the task effectively. Every step of the way, our staff will collaborate directly with you to make sure that your idea is flawlessly realized.